With the arrival of spring, new laptops are everywhere. Companies like Dell, HP, Acer, and Asus have been busy launching revamped versions of popular notebooks and spin-offs of existing lines.
These new additions to the scene (like Dell's XPS 13 2-in-1) just keep adding to the wide and varied options already out there, with more to come. Microsoft's recently announced Surface Laptop, for example, will attempt to revive the company's battle with Chromebooks.
For interesting developments among the many convertibles, 2-in-1s, and traditional clamshells currently available, look no further than gaming notebooks. Nvidia's Pascal GPU lineup has made it possible to buy a worthwhile gaming laptop for under $1,000—for example, the Dell Inspiron 15 7000 Gaming starts at just $850 and is capable of 1080p gaming. Vendors also are serious about squeezing AMD's new CPUs into their lineups, with Asus recently debuting the first Ryzen laptop at Computex.
Given how many choices are out there, we're hard at work evaluating more laptops. For our latest updates, we've refreshed our categories: "Best budget convertible laptop" has replaced "Best budget ultrabook laptop," and we now offer a "Best budget gaming laptop" recommendation. We've also added buying notes to our "Best hybrid laptop" laptop pick.
TABLE OF CONTENTS
Best ultrabook laptop
Best convertible laptop
Best budget convertible laptop
Best hybrid laptop
Best gaming laptop
Dell might be sticking to the adage of "If it ain't broke, don't fix it" when it comes to the XPS 13, but that strategy keeps producing the best ultrabook of the bunch. The Kaby Lake XPS 13 shares the same design as its predecessors: a quality aluminium exterior and carbon-fiber top, and that wonderfully compact, bezel-free 13-inch screen.
Dell actually released two updates to the XPS 13 in 2016: The one at the start of the year swapped in a Skylake CPU, added a USB Type-C port that served as an alternative charging port, and offered upgraded storage options. The most recent refresh—and our new pick for Best Ultrabook—keeps the same chassis changes as the Skylake XPS 13, features a jump to Intel's new Kaby Lake processor, and sports a slightly larger battery. You get improved performance across the board, with a nice bump of an extra half-hour of battery life during video playback.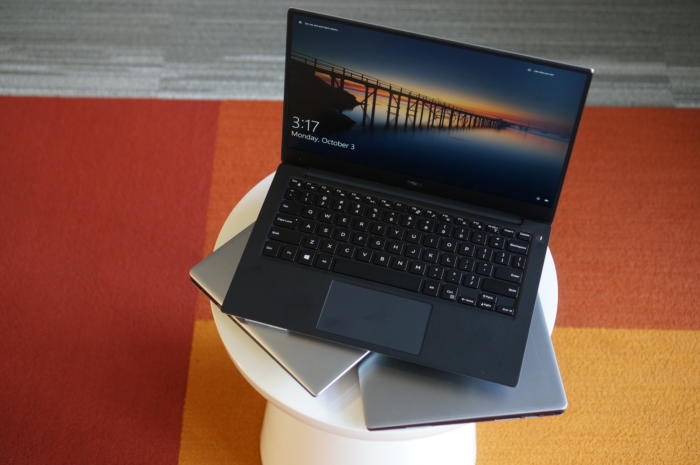 Our only lingering complaint is the small keyboard, but overall, you can't lose with the newest XPS 13. It's a truly compact ultrabook that punches out of its class.
[Source"pcworld"]