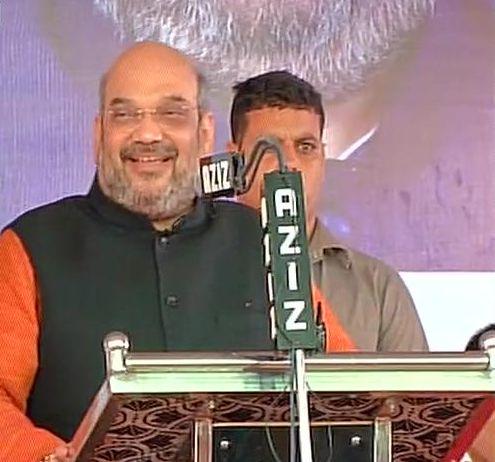 Bharatiya Janata President president Amit Shah on Sunday said his party's main agenda was a "Congress free India".
"Congress Mukth Bharat" is the BJP' agenda, Shah said addressing the Navodhana Sangamam rally on Sunday.
Whichever state the BJP had replaced Congress, it was able to provide a stable government and had initiated various development projects, he claimed.
People in Kerala should also strive for the same, Shah said.
On Narendra Modi government at the Centre, he said development and welfare of the common man was its main agenda, which could resolve various issues related to the common man and fulfill most of the poll promises.
On the development initiatives of the Centre, he said the Jandhan Yojana had benefited 15 crore people.
"Time has come in Kerala to have a change in the ruling Congress-led United Democratic Front and opposition Communist Party of India-Marxist-led Left Democratic Front coming to power in turns in the state. This has to be stalled", he said.
"People of Kerala also want a change from these coalition Fronts," Shah, who was on Sunday to attend the 62nd birthday celebrations of Mata Amritanandamayi, said.
"While Congress is becoming obsolete in India, Communism has died down world wide", he said.
Attacking the Ommen Chandy-led UDF government in the state, Shah alleged that the present government was "immersed" in corruption, referring to various scams which had hit the state.
Claiming that the BJP's base was growing in Kerala, Shah said though his party had failed to secure a single seat in the last Lok Sabha polls, it could garner 21 per cent votes.
["Source- rediff"]