Despite adopting a darker tone on core issues for the conservative base, the son of Cuban immigrants says only he can unite his party and win in November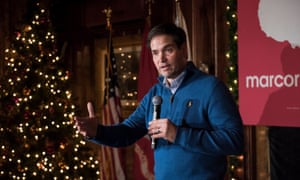 Moments before Marco Rubio arrived at The Old Salt, a queue of voters snaking across the room and out into an overflow area were joined by some waiting staff.
Lining the exposed brick walls of the historic tavern they stood, phones at the ready, to record the arrival of the son of a bartender and a maid who could become the first Latino president of the United States.
Similar scenes have played out when Rubio has taken the stage across hotel ballrooms, country clubs and diners from the chilly borders of Iowa and New Hampshire to the warmer climes of South Carolina and Florida: wait staff and housekeepers drawn to the inspirational tale of Rubio's immigrant parents that has been at the heart of his pitch since launching his candidacy for president last year.
Framed by observers as the Republican answer to Barack Obama, Rubio was quickly branded as another freshman senator in a hurry – but one who could make history by sweeping away a generation of leaders whose time was up.
But as Rubio moves back and forth between the two early states which will determine the trajectory of his campaign, his rivals have developed a narrative of their own: that the senator's forward-facing optimism has already been tried, and found wanting, in the current president. It simply won't be enough.
The presidential race has taken a rougher tone, with the bombast of Donald Trump and Ted Cruz at one end of the spectrum, and, at the other, a circular firing squad of establishment alternatives taking shots at one another. Rubio, elected to the Senate on the Tea Party wave of 2010, has been the only candidate caught in between.
So when the senator commenced his fourth and final stop of this early January day, the mood was noticeably darker. He began with a joke about how his wife had come up with a solution for cold weather campaigning by gifting him the same sweater in every color for Christmas, but he soon pivoted to a more serious note.
Launching into a critique of Obama's tenure, Rubio said: "This is the first time we've had a president not interested in fixing the problems in America. This is the first time in modern history we've had a president that is trying to fundamentally change America. This is the first time that we have a president that believes that America is an arrogant global power that needed to be cut down to size."
The portrait only grew bleaker as Rubio, sporting the light grey version of the Christmas sweater range, continued. Obama, by his account, had left the country in ruins – damage so irreparable that simply electing any Republican might not be enough to reverse course.
Hopeful Rubio had apparently been subsumed by the prevailing mood of the Republican primary electorate: voters are fed up. As the rise of Trump and Cruz – and even Democratic contender Bernie Sanders – reveals, many Americans yearn for a candidate who will channel their frustrations.
The danger for Republicans, even while Trump and Cruz rise, is that by pandering to this anger, they risk turning off supporters they will need if they are to retake the White House after eight years.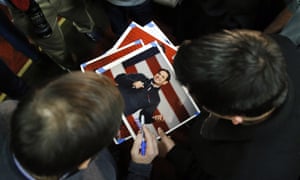 As Rubio was signing copies of his memoir and posing for photos, one tall man in a baseball cap, standing in line for the senator, lamented that most Hispanic immigrants granted US citizenship voted for Democrats. Why not stem the flow of immigrants, he asked, to prevent a movement that would "dramatically change the country"?
Rubio, the man featured on the front cover of Time magazine in 2012 under the headline "The Republican Savior", showed a flash of that understanding that to win, Republicans need to broaden their appeal.
He politely disagreed and argued the need for conservatives to improve their standing among immigrants by advocating free enterprise as the path to prosperity.
"One of the things that motivates an immigrant community is the desire to leave their children better off than themselves. That's what they want, that's why they came," Rubio, the son of Cuban immigrants, said. "We've got to talk about what they're facing. If we don't, they think we don't care about them."
The man walked away saying he might reconsider his view. In miniature, this is how Rubio seeks to unite – and change – the Republican Party. He is a staunch advocate of conservative principles, but presents the softer demeanor he hopes will draw in voters from the various wings of the party and even those Americans long forgotten by the GOP.
"We need to reach out to those who haven't heard from us in years," Rubio often says on the stump, ticking off demographics such as minorities, single women and young people. "When's the last time we spoke to single moms struggling to raise their children? When's the last time we had an agenda that spoke to students burdened with debt?
"If I am our nominee, we will be the party of the future," he adds.
•••
Attempting to unify the party in a primary upended by grassroots anger, Rubio's message has been pulled in different directions – vacillating between a decidedly gloomier assessment of America while holding on to the promise of hope in the future.
In recent weeks, much of Rubio's stump speech has addressed the grievances of the Republican base, eaten up by a feeling that their country is slipping away from them.
"This is hard, but it's the truth: America is a great nation in decline," Rubio says. "We are not a weak country. We just have a weak president. And this year we are going to change that."
Any mention of Trump – by concerned voters or the media – yields only subtle criticism from the senator. Mostly, Rubio gives credit to the real estate mogul for pointing to issues he says are important.
"I'm running against him for president, so I'm not in the practice of building up my opposition," Rubio told attendees at a town hall in Ottumwa, Iowa, last week. "But I acknowledge that what he's tapped into is a real frustration in this country that needs to be addressed, that politics no longer works for people."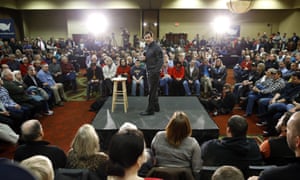 While Cruz and Trump have ridden a wave of outrage to the top of the polls, Rubio has not made significant headway – occupying the third slot in most national and early state polling. Even so, the consensus remains that he is the most likely candidate to make a late breakthrough, with favorability ratings that are among the highest in the field.
If he is to emerge as the palatable alternative, he has a circuitous pathway to the nomination ahead.
At the moment, Rubio is neither positioned to win Iowa or New Hampshire. But he is running in the top three in most early state polling, and his campaign is confident New Hampshire will knock out other establishment contenders.
As the field winnows, Rubio's backers hope the party would rally behind him as a clear alternative to Trump and Cruz. It remains an arduous task, given the senator is far from a comfortable second in New Hampshire – where he has borne the brunt of attacks from rivals such as Jeb Bush and Chris Christie.
Both have sought to undermine Rubio's candidacy by zeroing in on his youth as a liability. Hillary Clinton would "pat him on the head and rip his heart out", Christie claimed of Rubio this month. In a separate interview, the New Jersey governor asserted that Rubio could not "slime his way" to the White House.
Bush, a one-time ally of Rubio's, has largely steered clear of the senator since his attempt to attack Rubio's voting record in October's Republican debate fizzled. But Right 2 Rise, the Super Pac supporting Bush's candidacy, has dedicated millions of dollars to attacking Rubio.
One Right 2 Rise advertisement depicted Rubio as a weathervane, blowing with the political wind on the issue of immigration. Another flashier spot, unveiled after Rubio was photographed wearing a pair of high-heeled boots in New Hampshire, was even more belittling.
"One of these day's young Marco's gonna flip, flop, upon you," a voice in the ad sang to the tune of Nancy Sinatra's These Boots Are Made For Walkin', as a pair of boots danced about and the senator's varying positions were plastered across the screen.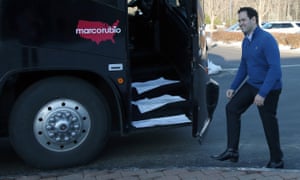 All told, Rubio has been the target of at least $20m in attack ads – more than any other Republican seeking the nomination. By competing in overlapping lanes, seeking to offer something to every type of voter, he is similarly seen as a threat to every type of opponent.
"In many ways, it's an affirmation of what I've been saying, and that is, you don't attack a candidate who is not just credible but doesn't have momentum," Rubio told Fox News on Sunday. "You only spend it if you feel someone is a threat."
In Iowa, where the evangelical Christian vote is ardently chased, Rubio emphasizes traditional values and his faith, after spending much of last year staying away from social issues unless asked.
"You're labeled a bigot or a hater if you believe in traditional marriage. You're waging a war on women if you believe in protecting the unborn," he says, while lamenting how hard it is for him and his wife to raise their four young children at a time when Hollywood and the media are "ramming liberal values down our throat".
Television ads airing across Iowa feature Rubio sitting in an interview-like setting, detailing his commitment to his Christian faith against a soundtrack of rising strings and piano. "Our goal is eternity, the ability to live alongside our creator and for all time, to accept the free gift of salvation offered to us by Jesus Christ," Rubio said.
"The purpose of our life is to cooperate with God's plan. To those who much has been given, much is expected, and we will be asked to account for that," he said, alluding to the biblical parable of the faithful servant.
"Were your treasures stored up on earth or in heaven? – and to me I try to allow that to influence me in everything that I do."
In another, he emphatically defends his pro-life stance "not as a political issue, but as a human rights issue".
Such excerpts play well with the Iowa evangelicals who constitute the majority of Republican caucus-goers in the state. Nearly 60% of those who caucused in Iowa in the last presidential contest identified themselves as evangelical or "born-again".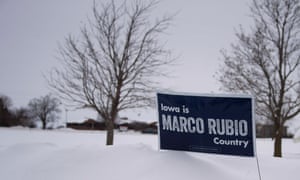 But outside of the confines of the party, an overt emphasis on faith is more likely to draw pause – as it did from one voter who confronted Rubio during a town hall in Waverly, the small city north-east of Des Moines which is home to Nestlé's powdered drinks plant.
Justin Scott, an atheist, stood up. "There's talk in our community of you running as pastor-in-chief and not commander-in-chief," Scott said, adding that atheists like himself were seeking a candidate "that will uphold their rights as Americans, and not pander to a certain religious group".
Rubio was unfazed. "You have a right to believe whatever you want," he replied. "No one's going to force you to believe in God. But no one's going to force me to stop talking about God."
"No one's going to take away my right, and your right to live out the teachings of your faith – no one," he added, gesturing to the crowd. "You shouldn't be worried about my faith influencing me. You should hope that my faith influences me."
The room erupted into applause, with some rising to their feet. A video of the exchange spread rapidly across the internet and was readily shared by Rubio's campaign, which couldn't have planned for a better moment with precious time remaining before the caucuses.
Bob Klaus, a salesman, was so impressed by the video that he came to see Rubio in Cedar Rapids a week later and approached the senator to speak at a prayer breakfast he has organized annually on Good Friday for 13 years.
"I thought he handled it really well, because he didn't belittle the guy," Klaus said. "In fact, he made a good case for why the guy should really be for Rubio because he doesn't discriminate against any one group."
By contrast, Klaus noted, that Cruz came off as "a little divisive" when discussing similar themes. "It's his way or the highway. I don't think he can get elected being like that."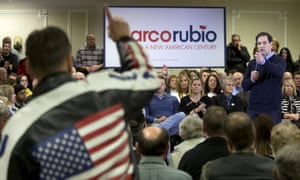 Scott, the atheist voter, indicated that Rubio's vigor on the subject of faith might still pose hurdles down the line in a general election.
"He didn't actually address my question about: are you running for commander-in-chief or are you running for pastor-in-chief?" Scott said. "His TV ads don't talk about the issues, they talk about his belief system and how that guides everything he's going to do as president. He's pandering to the religious right just like a lot of them."
Asked by the Guardian at a recent campaign stop if he was running the risk of turning off voters in a general election – where in recent cycles single women and young voters have moved away from the Republican party's conservative stance on abortion and gay marriage – Rubio expressed confidence in his positioning.
"People have a right to believe and support anything they want. This is a free country and most certainly a republic where people can express themselves at the ballot box," he said. "My argument is that people that hold traditional values should not continue to be stigmatized."
•••
Rubio returned to Iowa nine days before the caucuses with no plans to leave until their conclusion. He never seems to publicly stop for food himself – powered apparently by coffee and Red Bull – but on one blustery day he broke off to buy pizzas and deliver them to college kids camping out overnight to buy basketball tickets.
Cars filled the parking lot and nearby snow-covered streets, as at least 300 potential caucus-goers packed two stories of a small liberal arts college in Indianola to take in Rubio's final pitch.
As the senator told it, the choice before them was one of electability. He continued to exude frustration, only this time Rubio concluded there must be more to it.
"I am angry, and you should be too," he said. "But being angry about the direction of our country by itself will not be enough. We also have to have someone for president who knows exactly what they're going to do when they get there."
"Frustration is a motivator — it is not an action, it is not a solution," Rubio added.
He had just earned the endorsement of Iowa's largest newspaper, the Des Moines Register. During his speech, another paper – the Sioux City Journal, concentrated in one of the state's more conservative pockets – also gave the Florida senator its approval as the most formidable opponent to Hillary Clinton.
The Register focused its decision on the attributes some Republicans have long seen in Rubio: "A new direction … his party's best hope … eloquent."
But the editorial board identified some lingering concerns, among them that Rubio, of late, "has pandered to rising pessimism in his party".
"He wants to fight the battles of the past, such as the supreme court's same-sex marriage ruling," the board wrote, adding to its assessment a mention of Rubio's complicated relationship with immigration reform.
While undeniably a boost for Rubio, at just the right time, such questions serve to highlight the trade-off between rhetoric that offers short-term gain but could cost a candidate the broader appeal necessary to win in November.
Rubio disagreed with observations that his tone has meaningfully changed when asked by the Guardian if he was no longer the sunny optimist in the race.
"I've always been realistic about the challenges before our country and they're significant – this president has done great damage that needs to be confronted," he said before a campaign event in Coralville, a suburb alongside the Iowa river. "There's no ignoring people are frustrated with the direction of our country … and when I'm president we're going to turn this country around."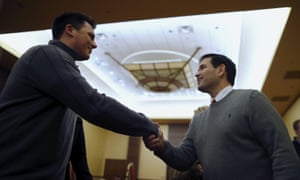 Rubio started with a joke about the weather, but he soon spelled out in grave detail what he sees as the single issue that can separate him from his competitors: national security.
With terrorism concerns on the rise, national security has emerged as the top priority of Republican primary voters. And it is on this topic that Rubio, who says his foreign policy experience is unmatched in the field, is at his most aggressive.
Dubbing the fight against the Islamic State a "civilizational struggle", he invokes the militant group's beheadings, burning of people in cages and apocalyptic worldview.
"Either they win or we win," he says.
At one stop in Sioux City, Rubio said he had bought a gun on Christmas Eve believing it might be the "last line of defense" between Isis and his family.
And as the cloud of immigration reform continues to loom over him – he was once the poster boy for comprehensive reform – Rubio now argues that the issue is inextricably tied to terrorism.
"Our Number One priority must now become ensuring that Isis cannot get killers into the United States," he told voters at a town hall in one of the most conservative pockets of Iowa. "So whether it's green cards or any other form of entry into America, when I'm president if we do not know who you are or why you are coming, you are not going to get into the United States of America."
Rubio's opponents have seized on his work on a comprehensive immigration bill in 2013, which included a pathway to citizenship that most Republican primary voters view as "amnesty". And the attacks are working, as evidenced by a woman who asked Rubio at a town hall in Oskaloosa on Tuesday to clarify his immigration stance – citing an ad that invoked his Senate bill.
The senator countered forcefully, insisting he was "not for amnesty".
"And as the son of immigrants, I feel like I have the authority to say that enforcing our immigration laws is not anti-immigrant. It's not," Rubio said.
Moments later, he made his closing pitch to the room of Iowans who had taken time from a weekday morning to weigh his candidacy.
"I'm taking the conservative message to people that haven't voted for us before," Rubio said.
"When I'm president, I will be president for all Americans, including the people who don't vote for me, including the people who say nasty things about me on Twitter, including the people who made fun of my boots. I'm going to cut their taxes, too."
"No one has a conservative record that's more conservative than mine – look it up," Rubio said, adding that he was the only candidate in the race who could run on Republican principles while still defeating Hillary Clinton.
[Source:- The Gurdian]