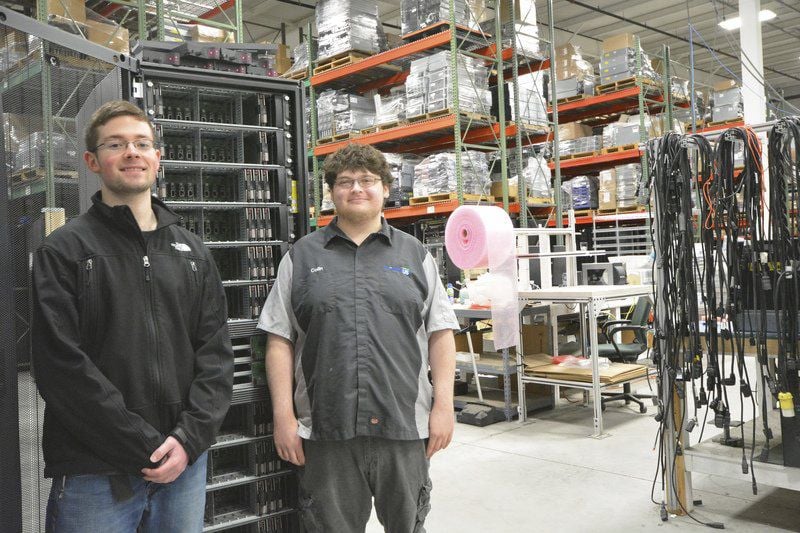 TRAVERSE CITY — Northwestern Michigan College students who study information technology usually don't have much trouble finding a job.
"Any business or organization or nonprofit — it doesn't matter what — they need our services," said Keith Weber, Computer Information Technology instructor at NMC. "You can be very interested in something — a business, a nonprofit cause, a government role — and use this to your advantage. It's a very versatile degree. Also, you can get a good job and pay your way through college."
Nolan Wurm, 18, of Cedar, hasn't yet completed his first year of classes at NMC, but he already has a position with Frontier Computer Corporation, 1275 Business Park Drive.
Collin Schlegal, 20, of Traverse City, is in his second year of studies in NMC. He landed an internship at Frontier that lasted a couple of months. The internship ended when he hired on full time.
More than a dozen employers from across northwest Lower Michigan will try to recruit technology workers at the April 17 Northwest Michigan Works!/Northwestern Michigan College Information Technology Career Fair. The event, from 4 to 6:30 p.m. at NMC's Hagerty Center, 715 E. Front St., also will offer information and resources for people considering IT careers.
"They've got good programs over there," Frontier's Benjamin Ingwersen said of NMC's computer information technology department. "Sometimes we have to compete with other companies" for NMC interns and graduates.
Both Wurm and Schlegal are specializing in infrastructure, NMC's designation for a concentration in computer hardware and networking issues. Both help Frontier process and maintain its inventory of more than 100,000 pieces of surplus IT hardware that the company sells worldwide. The two are just the latest of several NMC students and graduates that Frontier Computer employs. The company's marketing person hired on seven or eight years ago after attending NMC.
Former NMC student Greg Bright landed an internship at Frontier 14 years ago. Now director of operations, Bright oversees building maintenance, many of the company's daily operations — and a crew that includes Wurm and Schlegal. Bright hired on at Frontier as a technician. He was promoted to director of operations in 2008.
"I had two kids, I was married, and it wasn't easy," he said of his time balancing a family, a full-time job and classes at NMC.
Keith Weber's mission is to train students to succeed in the information technology sector. NMC's Computer Information Technology department offer two education tracks, one devoted to programming and the other to infrastructure. NMC typically has between 80 and 100 students enrolled in CIT, said Weber.
More information about the April 17 career fair is available at bit.ly/2oOj6Lb.
["Source-record-eagle"]